I was contacted by Robin Evans who said…
I bought my Pike of Crewkerne in January 2015 on Ebay for£214.00. My interest was piqued by the fact that I grew up not far from Crewkerne. I then found the excellent Stan Pike Website and thoroughly enjoyed learning about the history of this particular family business. I gave James (who is the founder of the website) the frame number and he sent it off to Steve Pike, Stan Pike's son, to see if he could shed some light on it. The bottom bracket has a name and a date of birth on it. Steve sent the following information back concerning this specific bike:
The frame number is PJ 25353 hence it took a while to find it. It was built in Feb 1983 by Philip Pike for Judy Windwood and supplied through Graham Tomlinson (a dealer in Wellington)
The spec is 22 1/2″ frame size with 22 1/4″ top tube, 14 3/8 wheel clearance. Top tube and seat tube angles are 73 degrees parallel.
The transfer set should be "Pike of Crewkerne"
James then managed to track down the very same Judy Windwood via the Web and her present connection with the Dorset Cyclists' Network (DCN). I gave her a call and she kindly agreed to share some of her memories of this bike:
The bike was specifically built and assembled for Judy – 5′ 8″ but with small feet!
Judy has subsequently written to me, and sent photos of the bike:
"As far as we remember, we ordered the bikes after our daughter was born, so after May 1983. We might have contacted Stan in February but I remember going to Crewkerne with my daughter in my arms. The frames were finished before Stan's death in November 1983 and Graham Tomlinson completed the bikes for us to my husband's specification. We bought a bike each; my husband's was red and mine the blue one. (see photos attached) Paul's eventually wore out as he used it for everything when he wasn't riding the tandem with a child on the back. He still has the forks though"
The bike was regularly used to carry their daughter in a bike seat. This was later superseded by a hand built trailer with a single wheel. This was constructed by Hannington's of Reading.  Judy enjoyed doing 100K Audax events with a child on board! The bike was also regularly used for touring, commuting and shopping.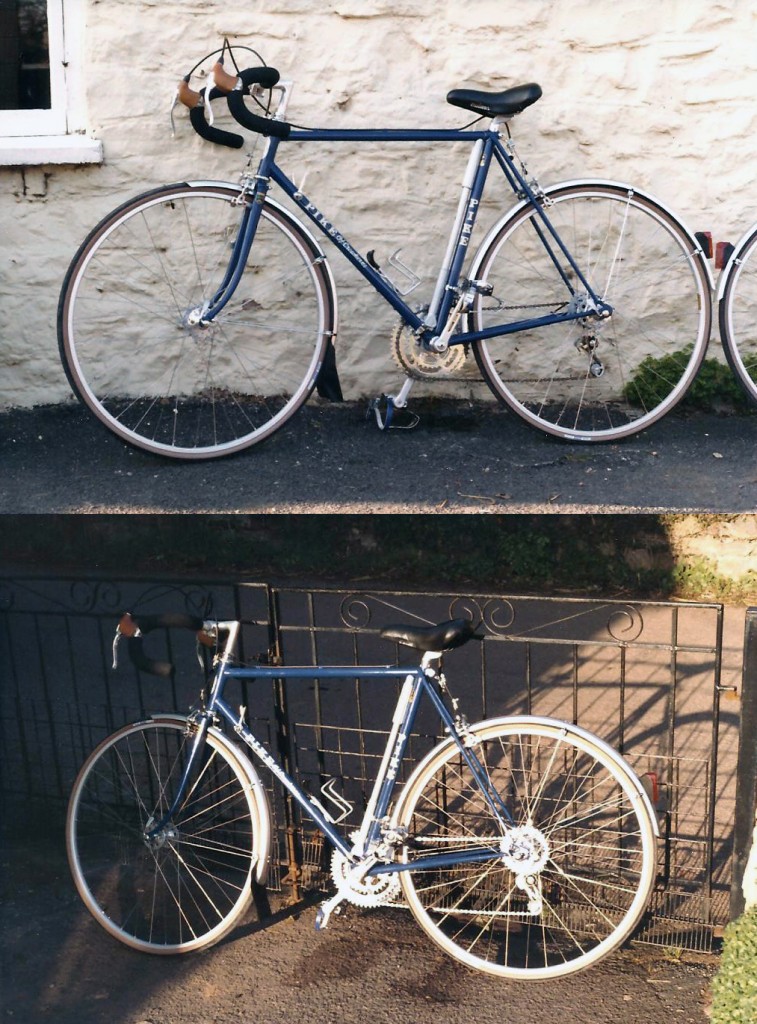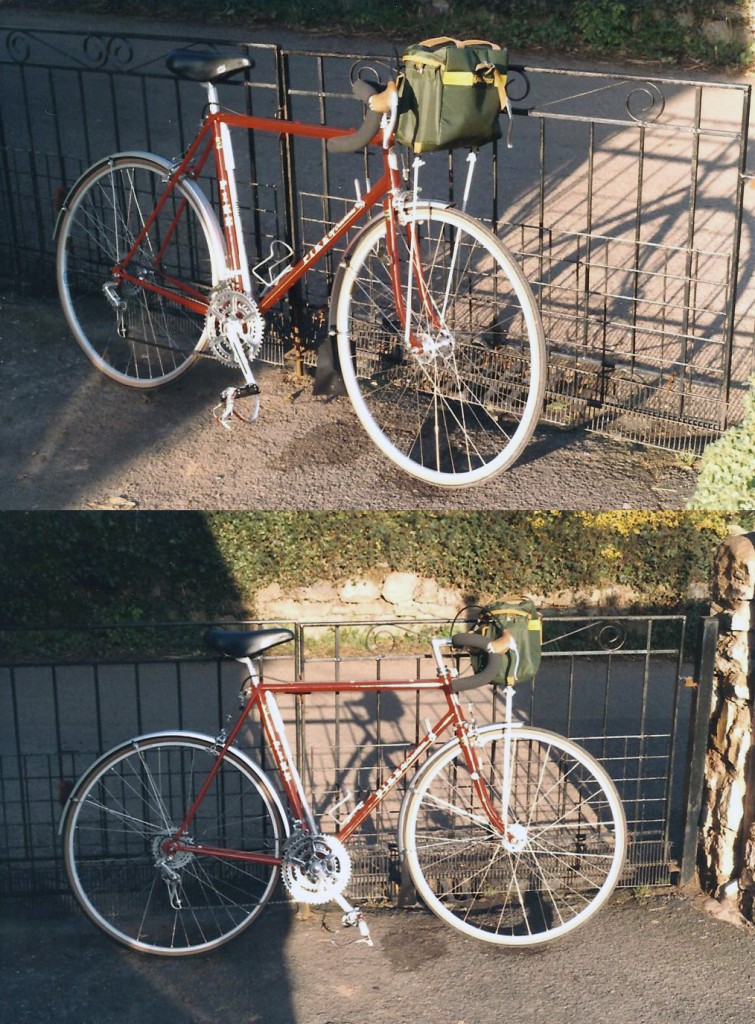 Judy also added the following:
"My parents were instrumental, with Graham Tomlinson and Terry Manuel, in reforming the Wellington Wheelers in the mid 1980s. We rode with the club sometimes when we were staying with them. See also Charlie Rimmer's Pike. I think it was the connection with the club which lead to us deciding to have the bikes built for us in Stan's workshop, as both Terry and Graham knew Stan. Also, I struggled to find a suitable bike for me. There were few decent bikes available off the peg which would fit me so we decided on having bikes built for us which would take child seats and also could be used for touring."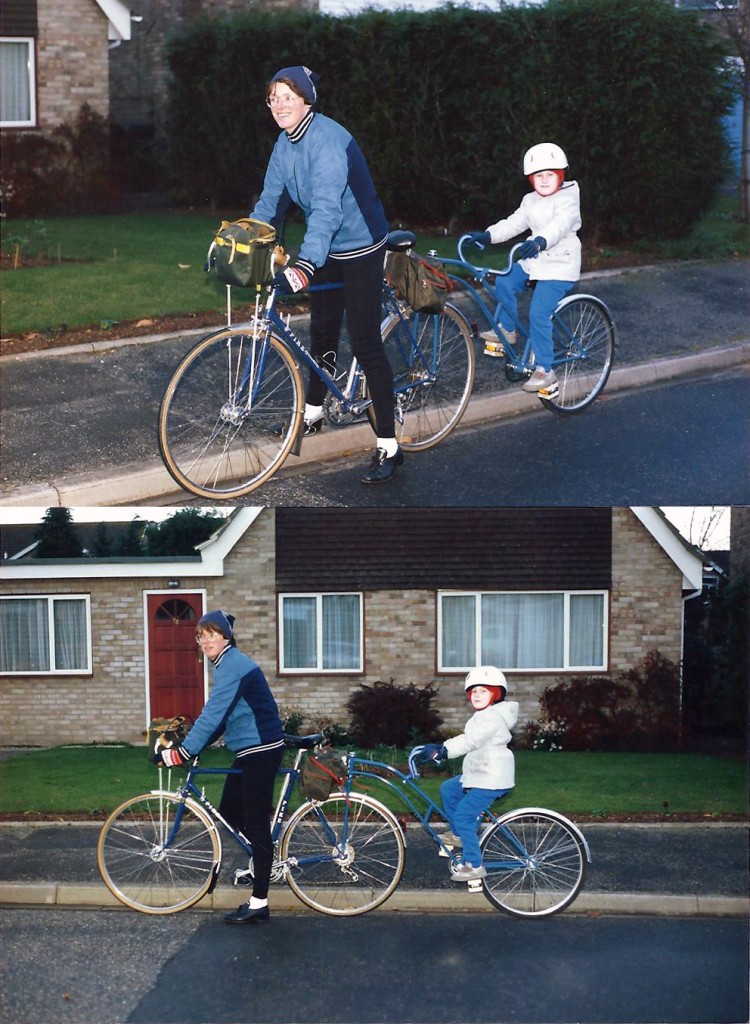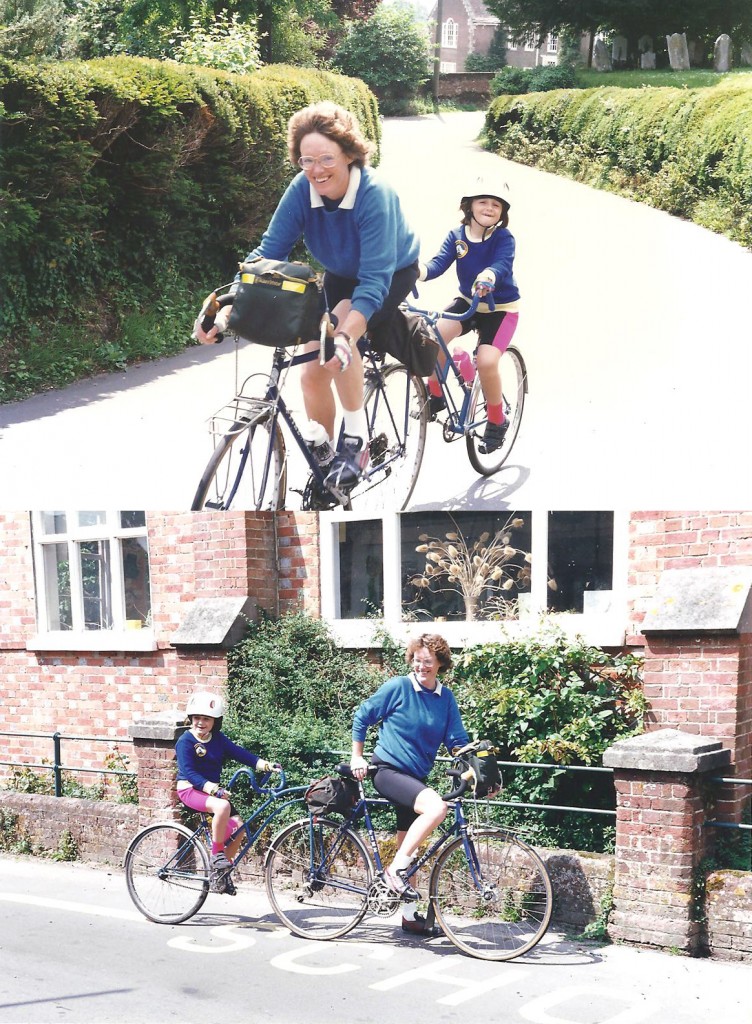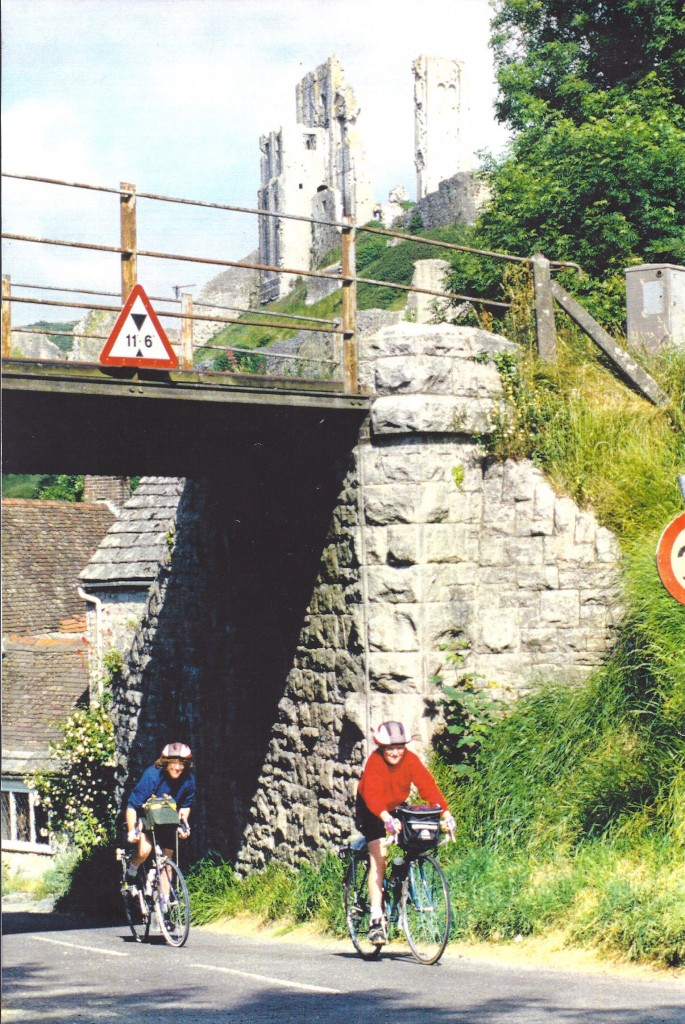 Judy eventually decided to sell the bike in 2014 when it needed a fair bit of TLC and after many years of loyal service. Judy continues to cycle and is still a very keen tandem rider. Her mum who is in her 80's also continues to enjoy cycling on her electric bike
What is the next chapter for this particular bike bike? I have sorted it out mechanically and it rides beautifully. I have made it look nice without trying to sort out any scratches. I wanted to keep it authentic. I was going to ride L'Eroica on it but I fear it is a tad small for my 5'11 frame. So come the spring I shall reluctantly launch it on it's next phase of ownership – probably via Ebay. These very well made Pike bikes were built to last!