I had an email on 17th June, 2014 that read:
Hi, I have an original Stan Pike cycle which was given to me locally on a 'freecycle' site. The bike is stamped under the pedal crank 'SP1712' and is also stamped with the name 'Raymond Cawthorne'. I wondered if anyone could tell me anything further about the bike please. Thank you.
I contacted Stan's son, Steve, who supplied the following information:
SP1712 was made in January 1981 for a Raymond Cawthorne who apparently lived in Williton, Somerset.  The frame was made from Reynolds 531, the main tubes were a heavier gauge 531.  The remaining tubes are noted as 531 "Best" 
The recorded spec is as follows:
25 & 1/2″ frame size, 24 & 1/4″ top tube length. 1 & 3/4″ fork rake, 17 & 1/2″ chain stay length. The head tube angle 73 degrees, the seat tube angle 72 degrees. 
It turns out that the present owner was selling the Pike on ebay…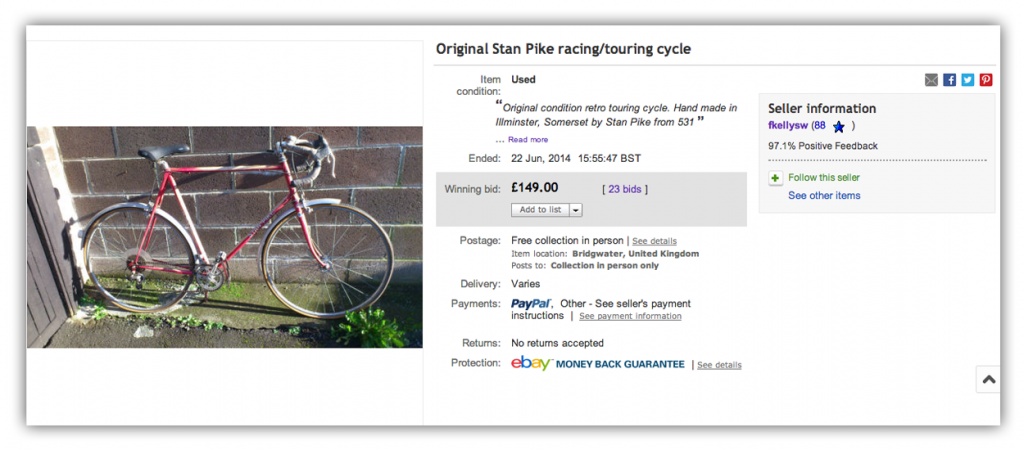 It sold on 22nd June for £149.00.
I've asked the seller to pass my details onto the new owner in the  hope that we can keep track of the bike. And possibly see the results of a restoration?
Fingers crossed.
And if anyone has any information about the original owner, Raymond Cawthorne of Williton, Somerset, please get in touch.